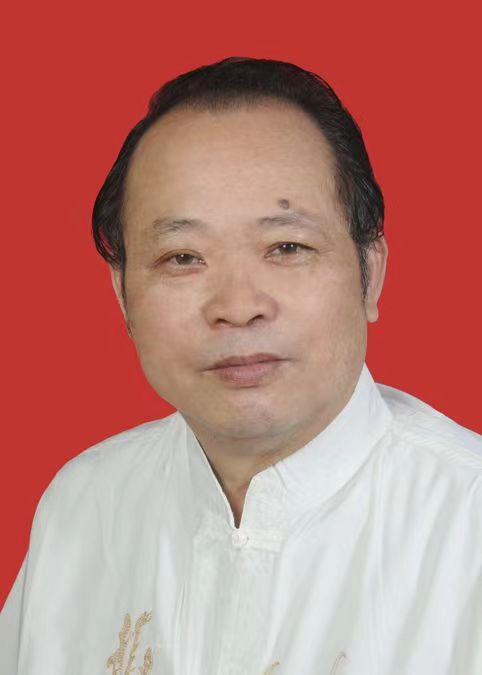 黄新胜,男,汉族,中共党员,1955年9月出生,籍贯广东省台山市广海镇人。
自幼酷爱祖国传统书法文化,7岁开始临摩欧阳询、王羲之等古碑帖书法,几十年来勤于临帖,能有一定的古雅气韵,初步形成了一定的个人风格。
他常参加全国性或地方性的书法比赛并常获奖励:
2015年8月他的书法作品参加第五届全国"炎黄杯"比赛获银奖。
2017年4月,他的书法作品,获一等奖并入编《中国时代文艺名家代表典籍》。
2018年4月,他的书法作品参加在北京第九届"羲之杯"当代诗书画家邀请赛获三等奖。
2019年12月《不忘初心牢记使命》书法作品,被国家多家公司和媒体选用或展出宣传。
2020年3月,应艺术财经网等邀请,能积极参加用书法艺术形式等慰问、支持和鼓励武汉抗疫前线的医务人员的活动。
2021-12-24入选《原创一艺山水丹青国际艺术中心:激情冰雪 虎虎生威— —中国名人名家新春艺术云展作品展播。
2022年1月6日《文旅中国》:福虎贺岁.迎新春——著名书法家黄新胜
2022年1月日被《时代周刊》评为:跨国文化传播视界——2021年度中国国家艺术形象代表人物黄新胜。
2022年1月日《今日头条》《文旅中国》:国粹艺术传承匠心被评为:当代最具收藏艺术家——著名书法家黄新胜。
2022年1月日被《百年英才系列 》评为百年英才黄新胜。
Huang Xinsheng, male, Han nationality, CPC member, was born in September 1955, native place guanghai town, Taishan City, Guangdong Province.
I have been fond of traditional Chinese calligraphy since I was a child. At the age of 7, I began to practice ouyang Xun, Wang Xizhi and other ancient inscription calligraphy. For decades, I have been diligent in writing and developed a certain style of ancient elegance.
He often takes part in national or local calligraphy competitions and often wins prizes:
In August 2015, his calligraphy works won the silver prize in the fifth National "Yanhuang Cup" Competition.
In April 2017, his calligraphy works won the first prize and were included in the classic Books of The Representative Literary masters of The Chinese Era.
In April 2018, his calligraphy works won the third prize in the 9th "Xi Zhi Cup" Contemporary Poetry and Calligraphy Painters Invitational Competition in Beijing.
In December 2019, the calligraphy work "Stay True to our Original Aspiration and Keep our Mission firmly in mind" was selected or exhibited for publicity by many companies and media in China.
In March 2020, at the invitation of art Finance network, she was able to actively participate in the activity of expressing sympathy, support and encouragement to medical personnel in the front line of fighting against COVID-19 in Wuhan with calligraphy art.
Selected "original art Landscape Danqing International Art Center: Passion ice, Snow, tiger, Tiger and Vitality -- Chinese celebrities spring Art Cloud Exhibition works exhibition.
January 6, 2022 Text Travel China: Fuhu New Year. Chinese New Year -- Famous calligrapher Huang Xinsheng
In January 2022, huang Xinsheng was rated as "Transnational Cultural Communication Vision -- 2021 Chinese National art image Representative figure" by Time Magazine.
January 2022 "Toutiao", "Literature Travel China" : The quintessence of Chinese art heritage ingenuity was rated as: the most collected contemporary artist -- famous calligrapher Huang Xinsheng.
In January 2022, huang Xinsheng was rated as one hundred Talents by "One Hundred Talents Series".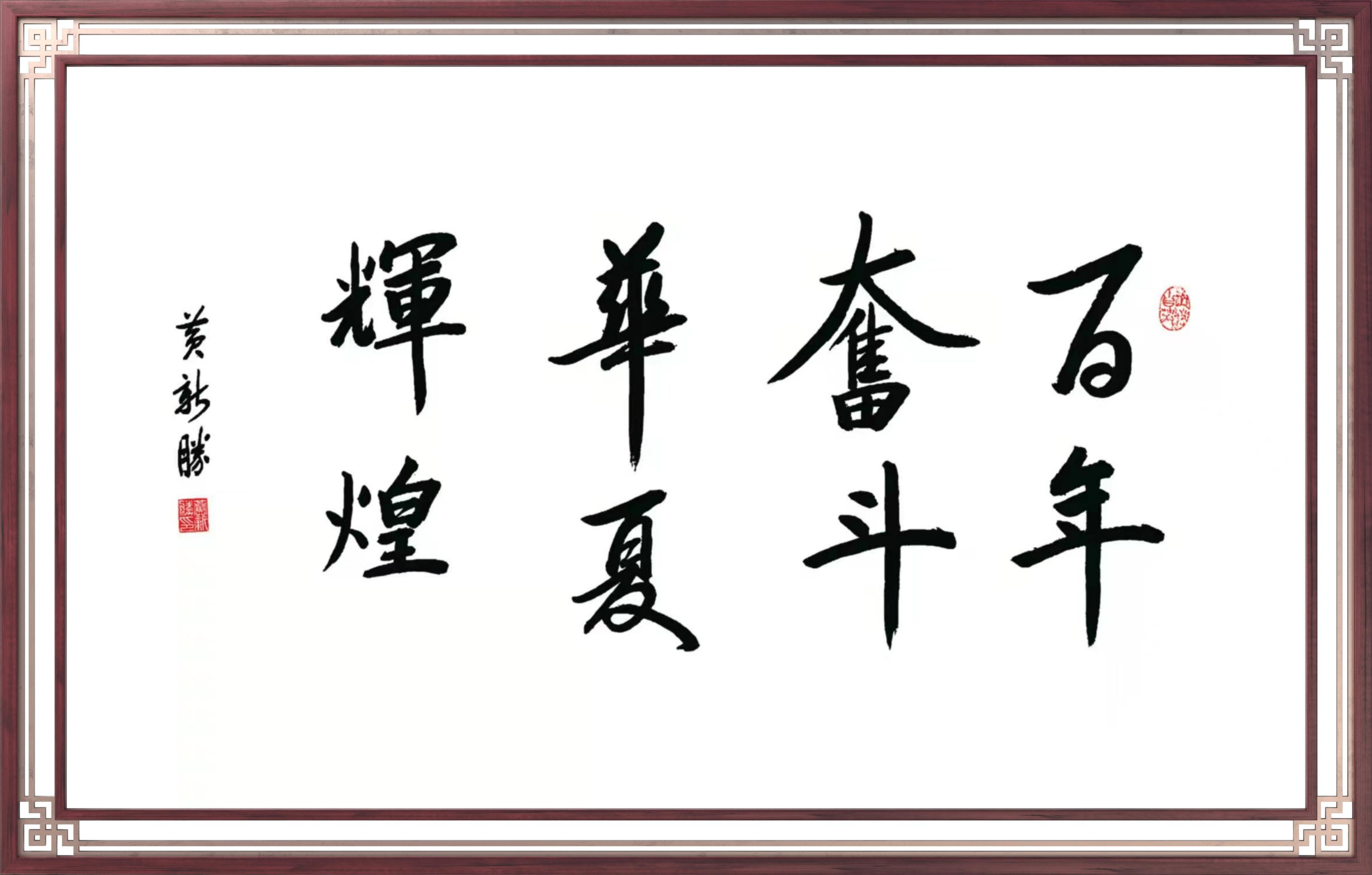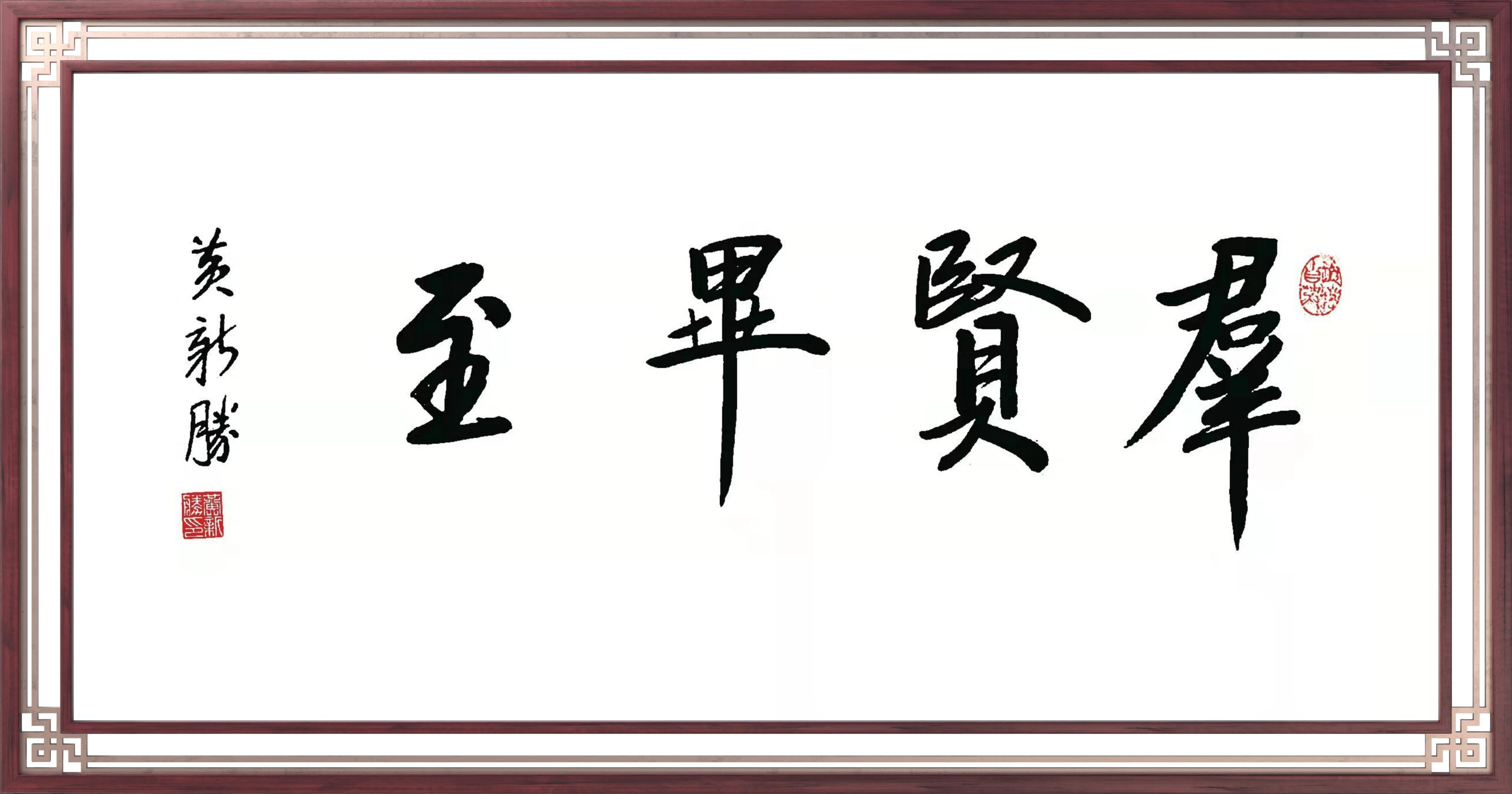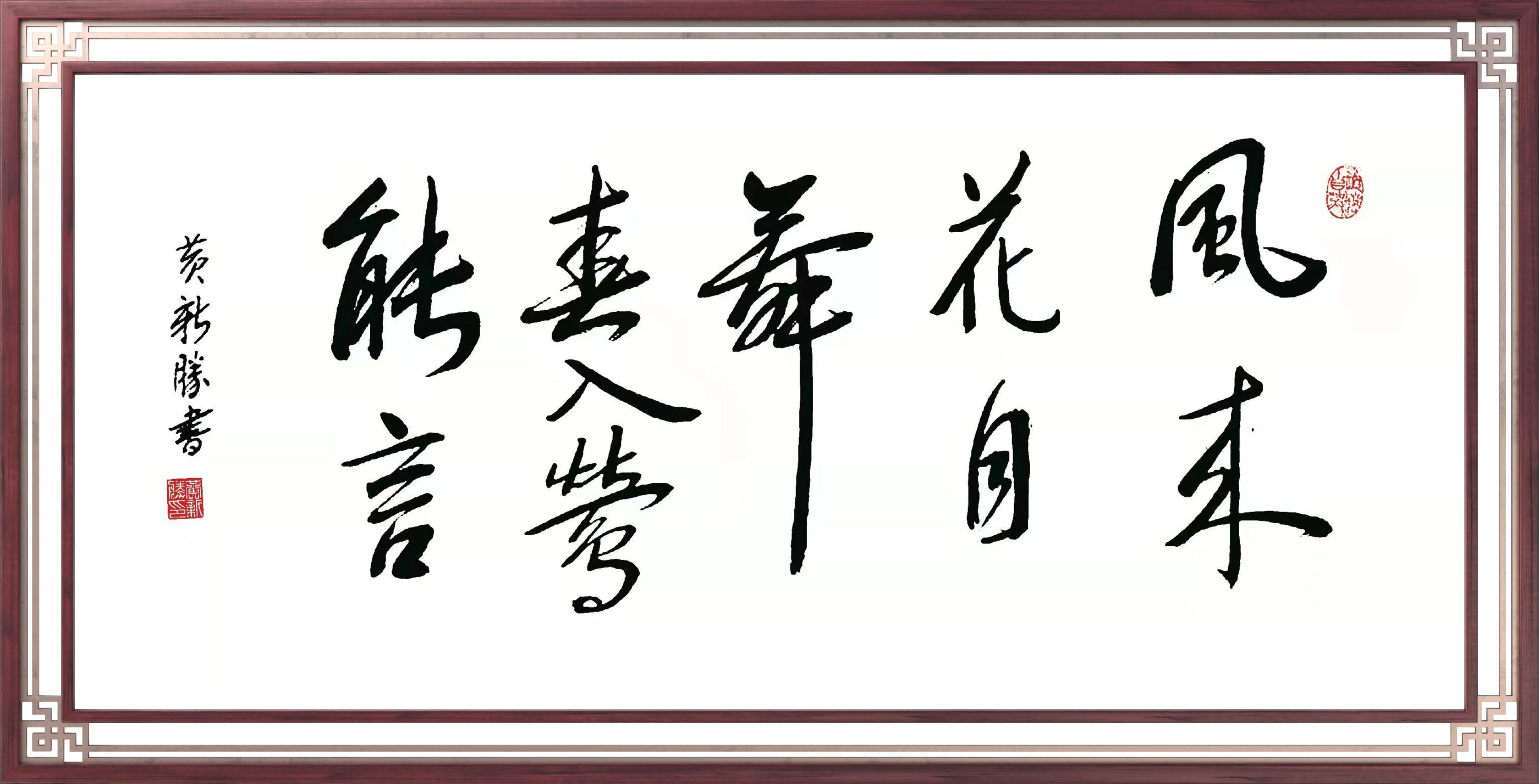 黄新胜当代著名书法家前辈,有老一辈艺术家严谨端正的艺术修养心态,做艺术不浮躁,执着于根基,临习碑帖一丝不苟,尚古求法一路执着,诸书皆成,博涉多优!所以观赏他的书法作品,必然会有一种源生的浩然正气,从文化龙脉的深处传承而出,令人感受到书法的正宗气象。 他出身书香门第,得受家学涵养,书法磨砺自幼年而始,经由高师严格而系统的点化,走上了师法碑帖,传承文化的大道,练得一身扎实的书法童子功。所以他的书法底气足,根基牢,与半路出家者的书法品质存在着天壤之别。俗笔随意写,他是精琢功法,法由师授,尽得真诀。多位艺术大家曾热情评议他的书法:大秀、大雅、大气、大美!艺术家多桀骜不驯,有慧眼识金书的超能,但是对于置评别人书法,向来以小心谨慎为要义,劣者不评,优者淡评,唯有奇者方予盛赞,所以他评论黄新胜的书法,连用四大之誉,足见黄新胜先生的书法不但入大家法眼,并且悦大师之心。他的书法,总是能以强烈的艺术张力,把人激发出心花怒放的审美情绪,大赞无量。
Huang Xinsheng, a famous contemporary calligrapher, has the rigorous and correct artistic cultivation mentality of the older generation of artists. He is not impetuous when doing art. He sticks to the foundation, is meticulous in his epigraphy, and perseveres in pursuing ancient methods all the way. Therefore, watching his calligraphy works, there is bound to be a kind of natural noble spirit, inherited from the depths of the cultural dragon vein, making people feel the authentic atmosphere of calligraphy. He was born in a scholarly family and had to be cultivated by family learning. Calligraphy honed since childhood. Through the strict and systematic enlightenment of high teachers, he embarked on the road of teacher's inscription and cultural inheritance and practiced a solid calligraphic child skill. Therefore, his calligraphy has a strong foundation and a solid foundation. There is a world of difference between his calligraphy quality and that of a half-way monk. The common pen is free to write, he is a fine cut method, method by the teacher, do really tactic. Many artists have warmly commented on his calligraphy: great show, elegant, magnificent and beautiful! Artists and obstinacy, of course, gold book super powers, but for calligraphy comment on others, always with caution as the be-all and end-all, LieZhe don't evaluation, performers the light, only the odd person praised, so his comments hairdresser - calligraphy, application of the big four, which hairdresser ohlsson calligraphy not only into the clear, and the heart of the master. His calligraphy, with strong artistic tension, can always inspire people to be elated aesthetic emotions, great praise.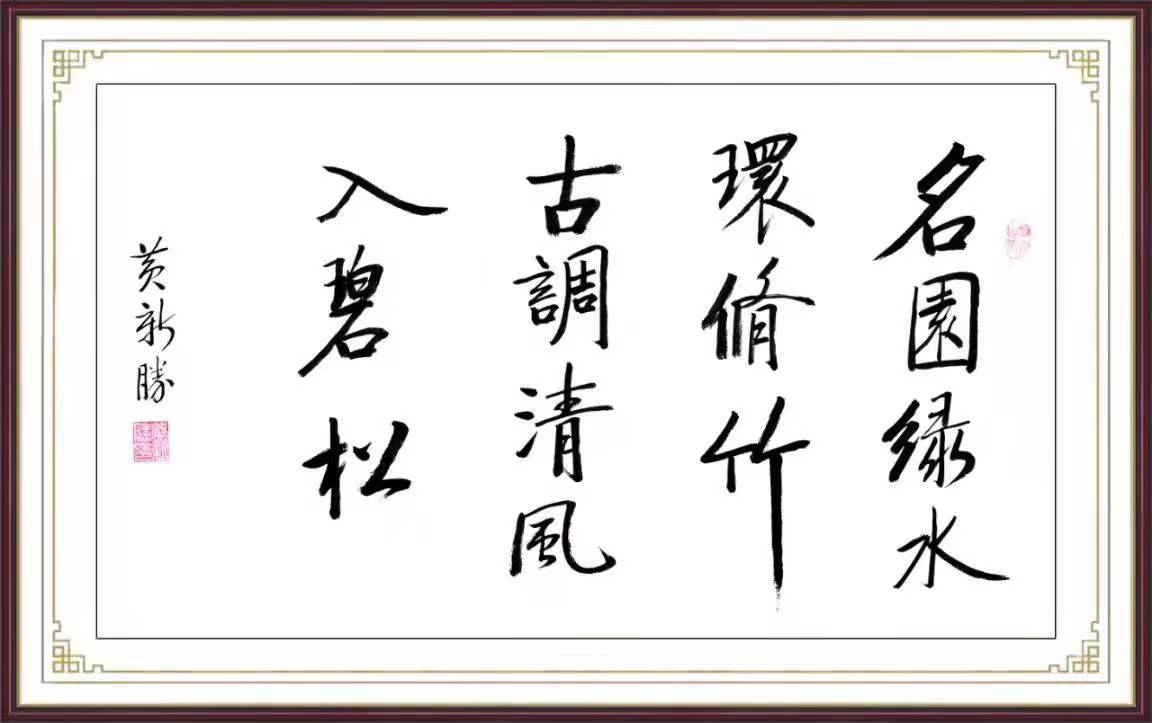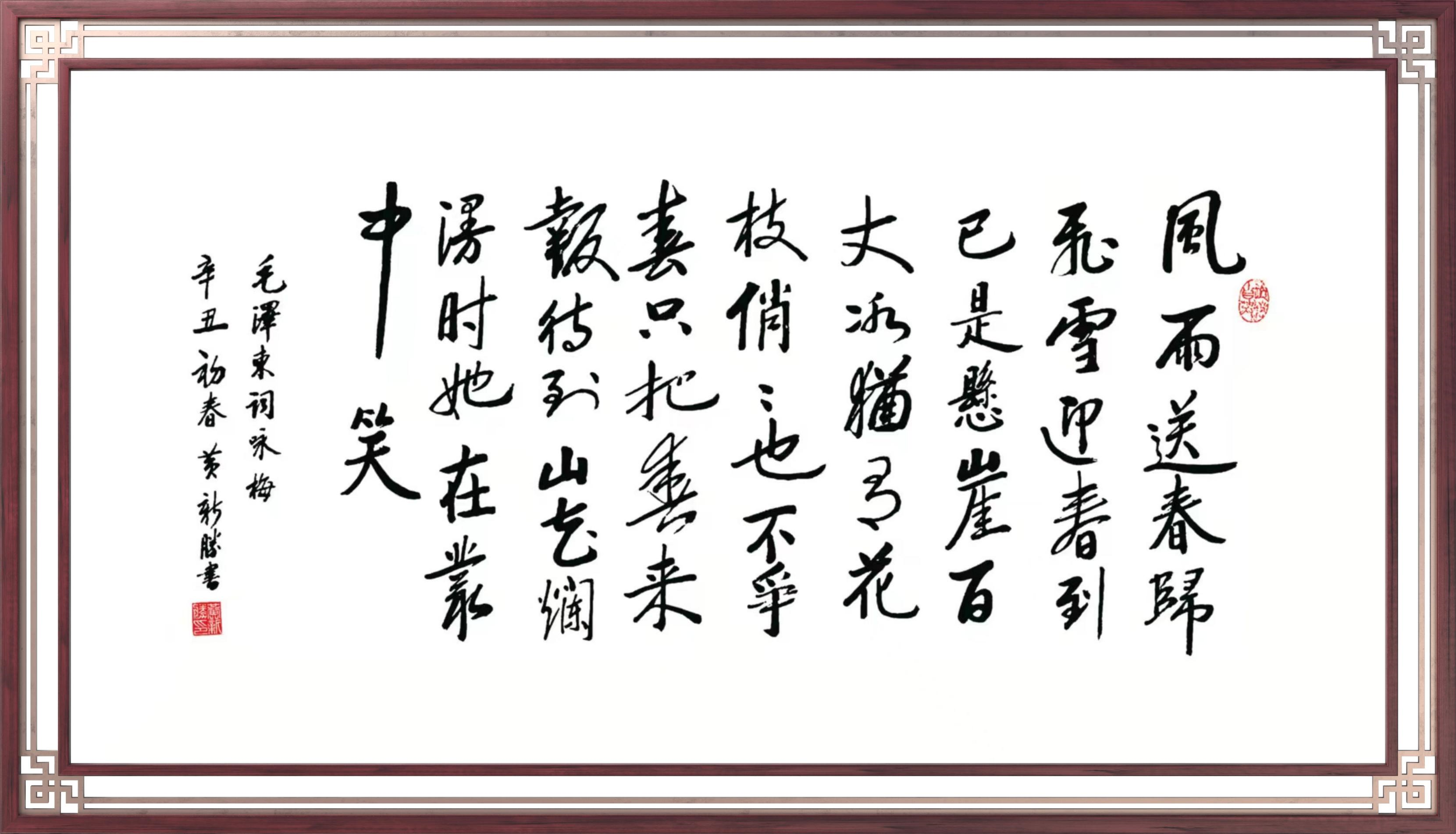 先生写书法,诸书皆成,,可以在一划之内变起伏于锋杪,也可以在一点之间殊衄挫于毫芒,笔法变化无穷,遂心应手。在牵丝映带之间,把书法写得锋须往来,高低有趣。赵子昂有论,用笔千古不易。不易的感悟,源于他细细琢磨兰亭序的笔法变化,由是写入兰亭十三跋,成为文人书法用笔妙于变化的共识。黄新胜书法,深师兰亭风,也觉悟不易之法,复作变化之功,把书法艺术的线条本质表现得无以复加!
In Mr. Miao's calligraphy, there are all directions which can be changed in one stroke or in one point. There are endless changes in the brushwork, which is very satisfying. Between the drawing tape, the calligraphy must be written in front of each other, high and low interesting. Zhao Zi ang has a theory, the pen is not easy through the ages. Not easy feeling, from his careful thinking of the orchid Pavilion preface changes, by writing the Orchid Pavilion thirteen postscript, become the literati calligraphy pen is better than the consensus of change. Huang Xinsheng's calligraphy, deeply learned from the Lanting style, also realized the difficult method, duplicate the work of change, the line of calligraphy art of the essence of the expression of the beyond!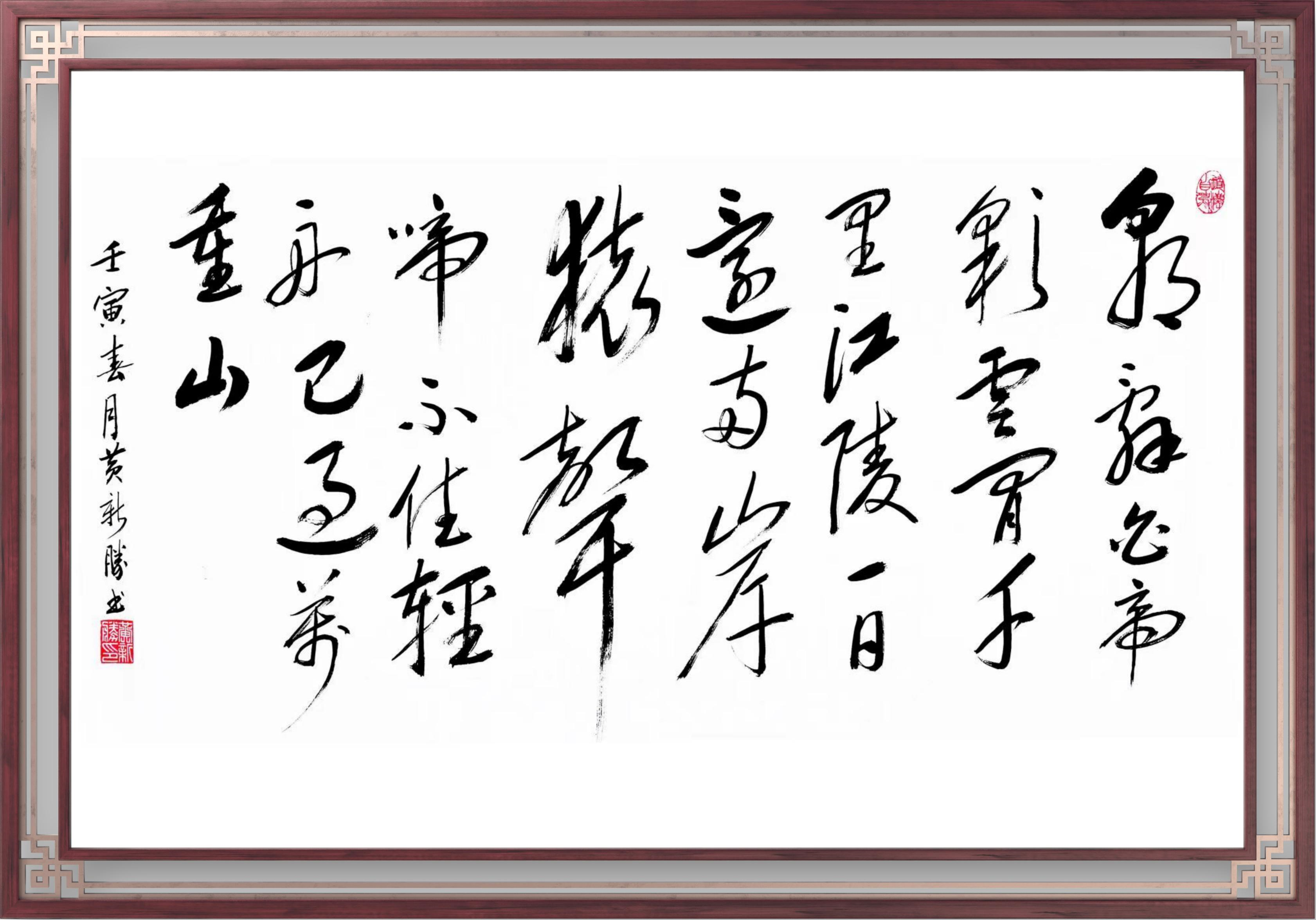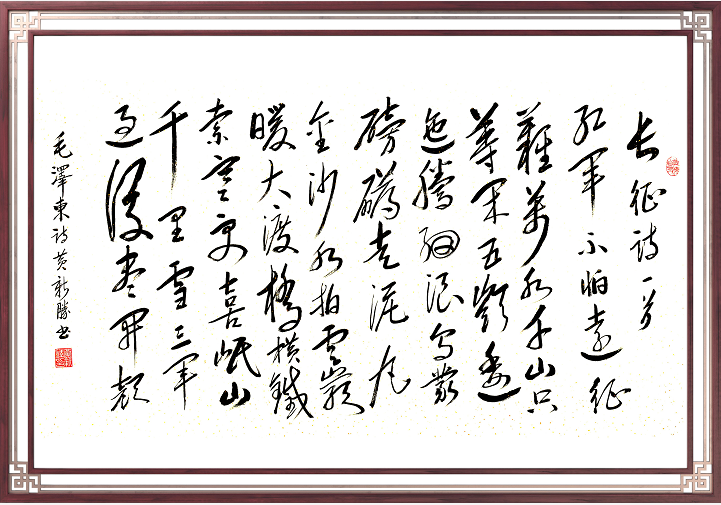 用笔之前先用心,意在笔先,先作凌空杀纸之势,预设字的大小、长短、摆拔、振动,然后作字,最有秋鹰逐兔的动感和泰势。动感源于侧笔而入,中锋调锋,有力透纸背的威风,也有细腻收拾的安逸。写的刚柔相济,虚实相生,书法晋为书道,道法自然!势感则来源于八面出锋的塑造,一笔拉过来,快如惊雷驰电,飞空秘密。续笔纵过云,状如落花飞雪,激楚浪以成文!以力写书法,也循气脉写书法,气则化势,势来不可止,势去不可遏,笔未到气已吞!写得相当痛快,看着非常生动!这就是他的书法富有审美趣味的重要原因。
Before using the pen first carefully, intended to pen first, first for volley kill paper potential, preset word size, length, pendulum pull, vibration, and then for the word, the most autumn eagle by rabbit dynamic and Tai potential. Dynamic from the side of the pen and into the center, there is a powerful back of the prestige, but also delicate to clean up the comfort. Write the rigid and soft, virtual reality, calligraphy Jin shu dao, Dao Fa nature! The sense of potential is derived from the eight out of the shape of the front, a pen pulled over, as fast as thunder and lightning, flying empty secret. Continuous pen vertical cloud, like falling snow, chu wave to written! To force to write calligraphy, but also qi writing calligraphy, gas is potential, potential to unstoppable, potential to repression, the pen has not been swallowed! It was written with great pleasure, and very lively to watch! This is the important reason why his calligraphy is rich in aesthetic taste.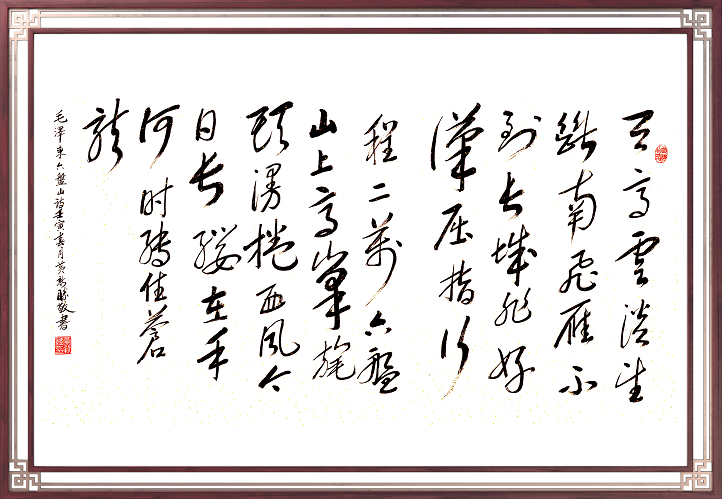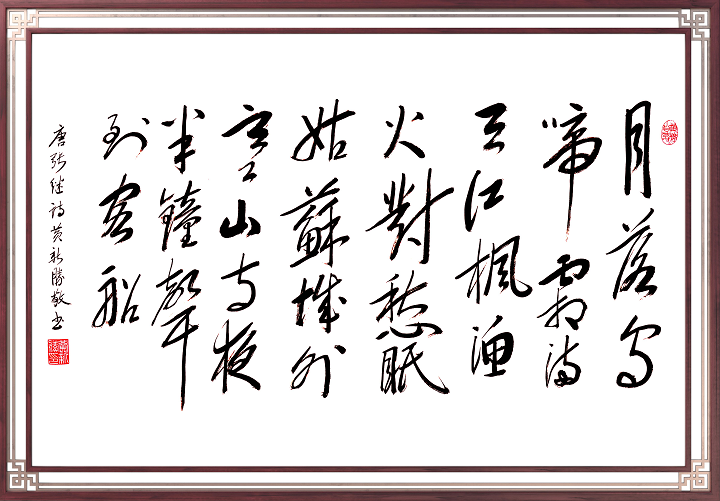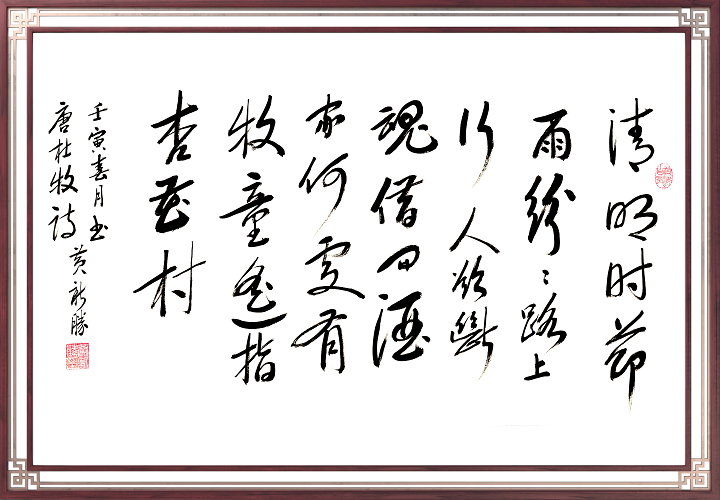 自古书法文人之事,文人写书法,贵有信札风。黄新胜先生经历丰富,少壮多年从戎,笔墨间饱含军人规严之气,甘练之韵,又藏锋刃之锐,蓄势之力,博学多识,商海历练,极有文人的翩翩修行,所以他可以作书如其人的表达!写出来的信札书风,如若晋代文人说事诉意,最有书以抒情的境界。也有宋代文人笔作心言的意韵,可以看到寒食帖的书文同工!文人写书法,在于畅神达意。黄先生笔墨循文脉,心可以驾驭笔,情可以融乎墨,在锋须往来之际,畅诉悠怀,写得天朗气清,惠风和畅!同自然之妙有,非力运所能成,无心最佳,反为最佳,修养到位了,当然可以把书法写到文人书法的极与巅!
Since ancient times, literati calligraphy, literati calligraphy, your letter wind. Mr. Huang Xinsheng has rich experience, many years of military service, pen and ink full of military discipline gas, gan practice rhyme, but also hidden sharp edge, power, erudite, business experience, very literati practice, so he can make the book as the expression of its people! Write out the letter letter wind, if the Jin dynasty literati talk about matters, the most book to lyric realm. There is also a song dynasty literati pen for the meaning of heart words, you can see the book with the work of cold food post! Literati calligraphy, is chang Shenda meaning. Mr. Huang pen and ink to follow the context, the heart can control the pen, love can melt ink, in front of the occasion to contact, chang v. you huai, write a clear sky, hui Feng and chang! With the natural wonderful, non force can become, not the best, the best, self-cultivation in place, of course, can write calligraphy literati calligraphy pole and top!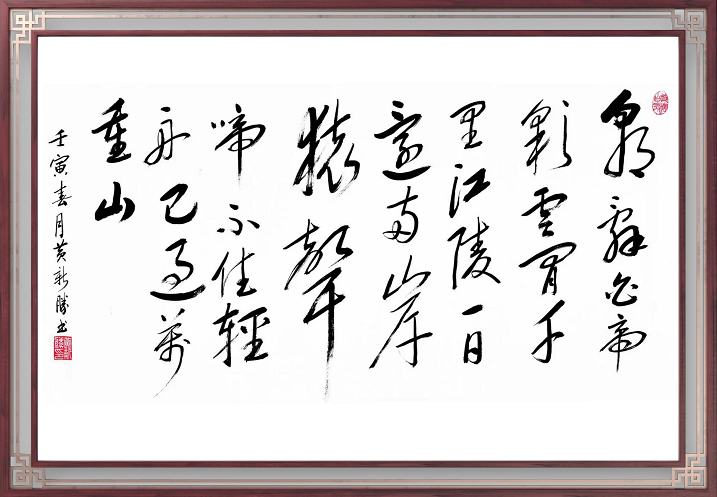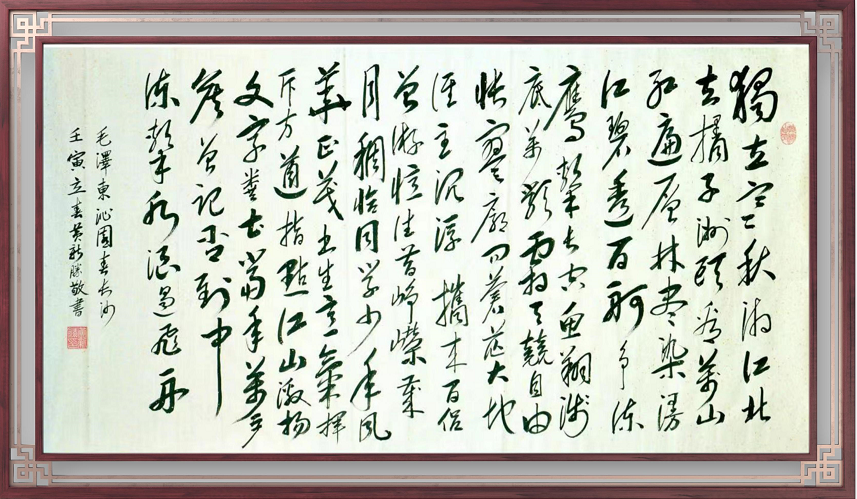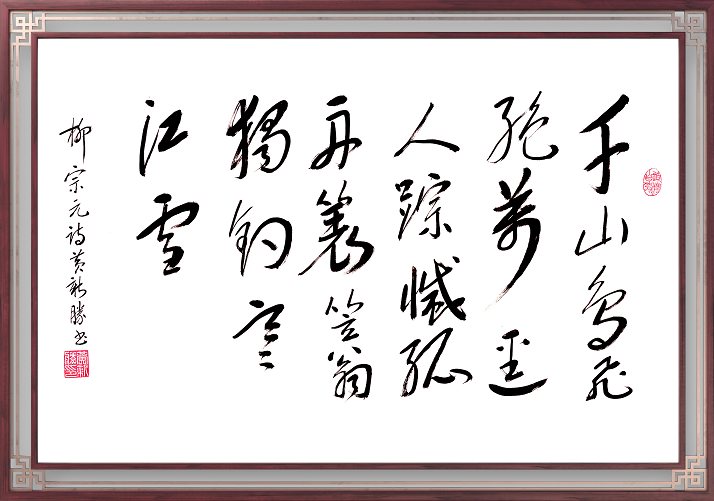 黄新胜的书法也是其修身的心境。笔墨如果脱离了心境,则书写时少意义,尽失根本,所以他的书法在黑与白、点与线的变换中体现了心有性灵的精神境界。性情脱俗,笔墨自超凡,淳厚之中有飞畅,酣畅之中写浑然,线条极有张力,也从不失淡雅之风。一笔书来,宛如草原马儿奔放轻驰,笔挥墨脱既有轻松娴雅之风,又有雄壮豪放之神,流畅挺立,苍劲含蓄,心气相和,落笔刚柔相济,秉承心气,师循天道,落花飞雪何茫茫,一划之内变起伏,风动梨花落,形美气神,是为彰显草书灵魂的能家。
Huang Xinsheng's calligraphy is also his self-cultivation state of mind. If the pen and ink are separated from the state of mind, they will have little meaning and lose the essence. Therefore, his calligraphy embodies the spiritual realm of mind and spirit in the transformation of black and white, dots and lines. Temperament free from vulgarity, pen and ink from the extraordinary, chunhou in flying smooth, hanchang in writing, lines are very tension, but also from the wind does not break quietly elegant. A book, just like steppe horse is bold and unrestrained light chi, pen and ink to take off both relaxed and refined, and the god of the magnificent and vigorous, fluent and stand firm, vigorous and implicative, and a better mousetrap, put pen to paper and flexibility, uphold a better mousetrap, t follow heaven, falling snow what boundless, within a row change ups and downs, pneumatic pear flower falls, form MeiQi god, is to reveal cursive script to the home of the soul.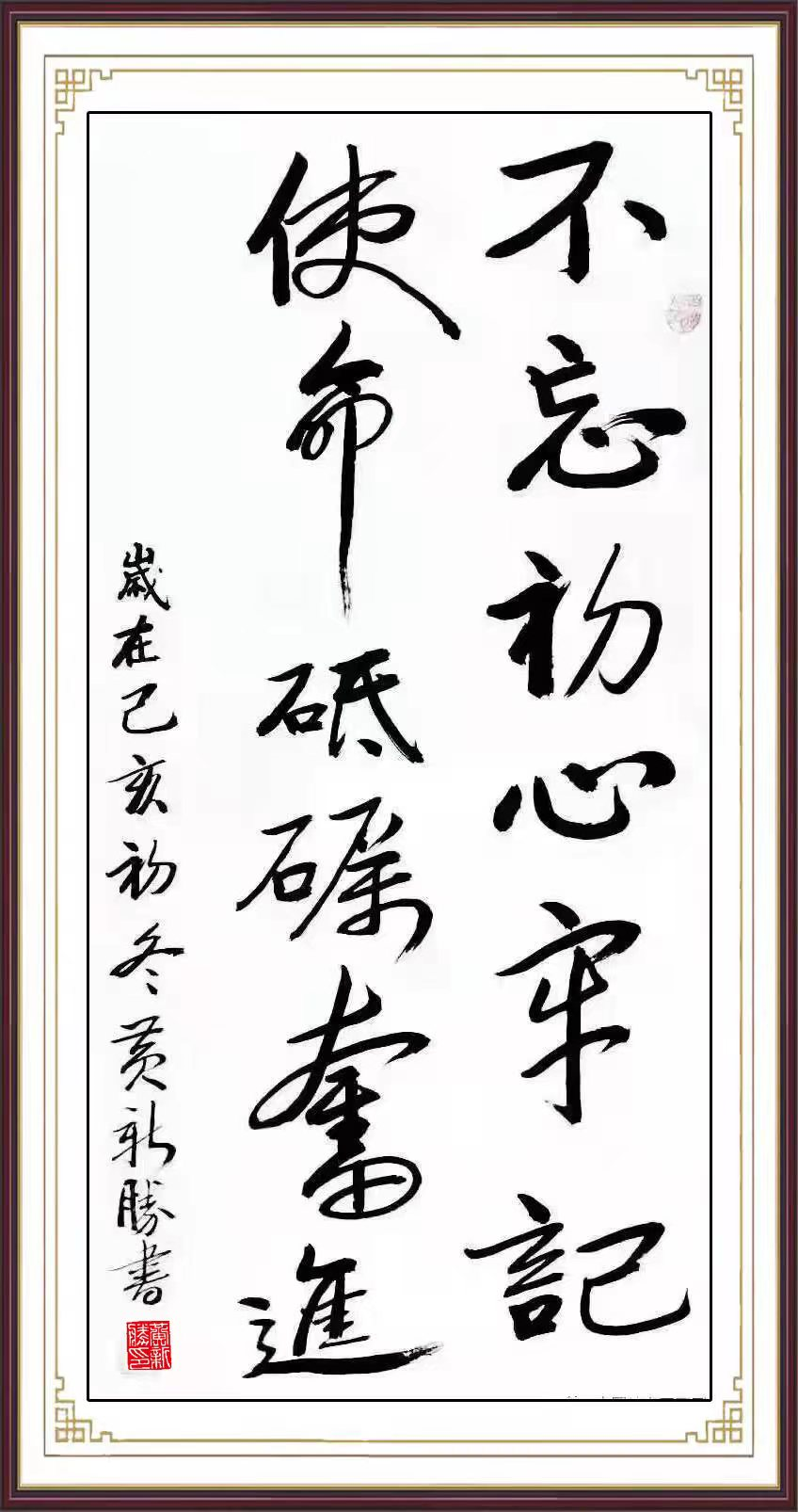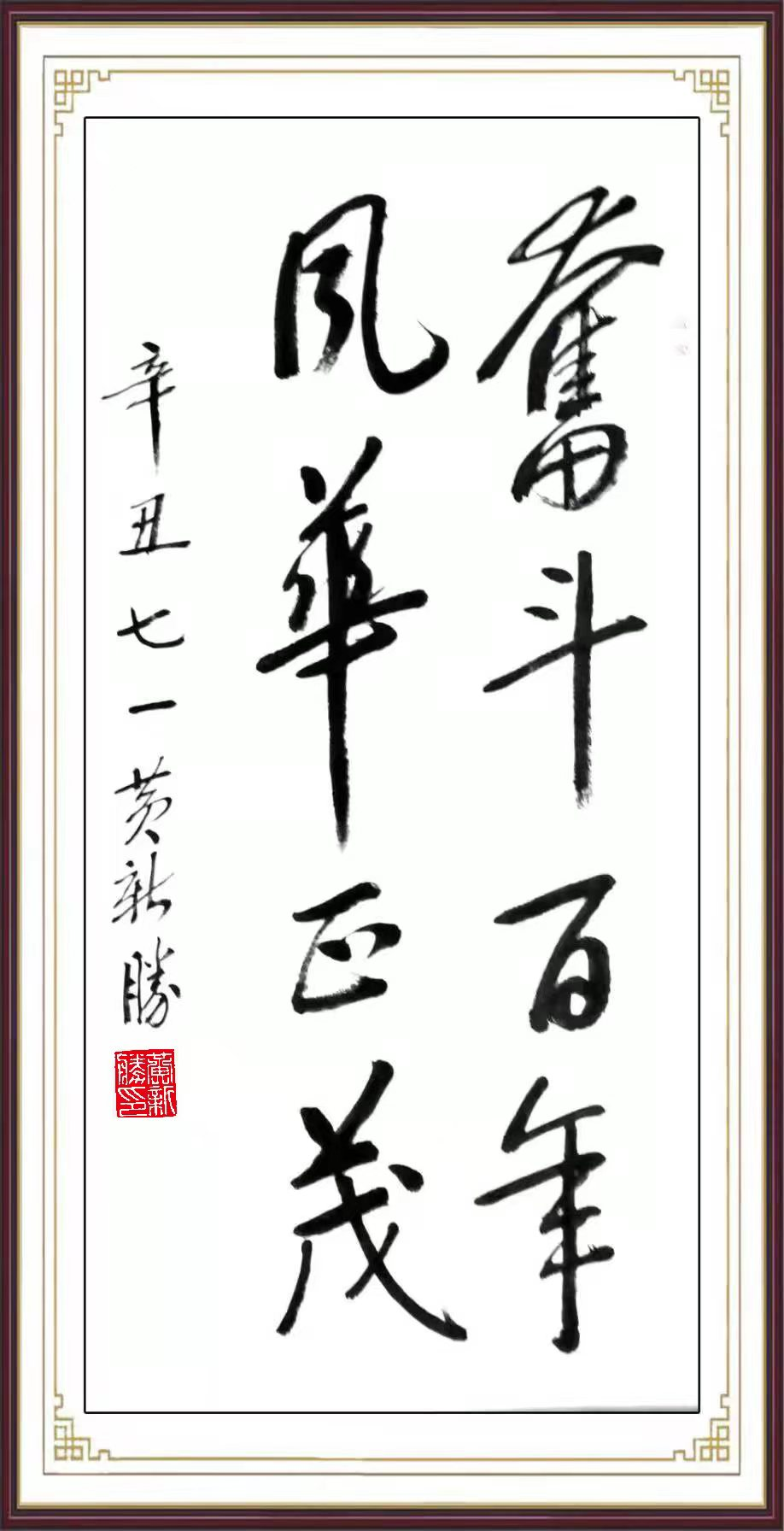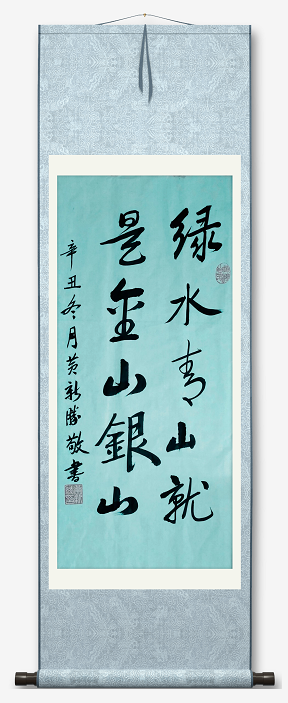 万丈高楼平地起,笔墨胜观一笔修。翰墨巨建丰功,总是与脚踏实地的磨砺分不开。黄新胜先生诸书皆成,真草隶篆,无一偏废。 书法形观质韵的空间跨度非常广博,体现着卓越的食古而能化的艺术劲功!纵观当今社会,无人能与黄新胜先生媲美,当之无愧是第一书法大家!
Great oaks from little acorns grow. Calligraphy and ink great achievements, always with a down-to-earth grounding inseparable. Mr. Huang Xinsheng all books are into, true grass li Zhuan, without bias. The space span of calligraphy is very wide, which embodies the outstanding artistic strength of eating ancient and transforming! Throughout today's society, no one can compare with Mr. Huang Xinsheng, worthy of the first calligraphy master!
.
我的微信
这是我的微信扫一扫
我的微信公众号
我的微信公众号扫一扫